6th July 2023
Formula 1 drives STEM engagement in UK schools with STEM Challenge Days
Formula 1, the F1 teams and the FIA are working together to drive STEM engagement in UK schools through a series of STEM Challenge Days facilitated by education charity, The Smallpeice Trust. Through the days, F1 aims to teach secondary school children across the UK about engineering and careers in STEM.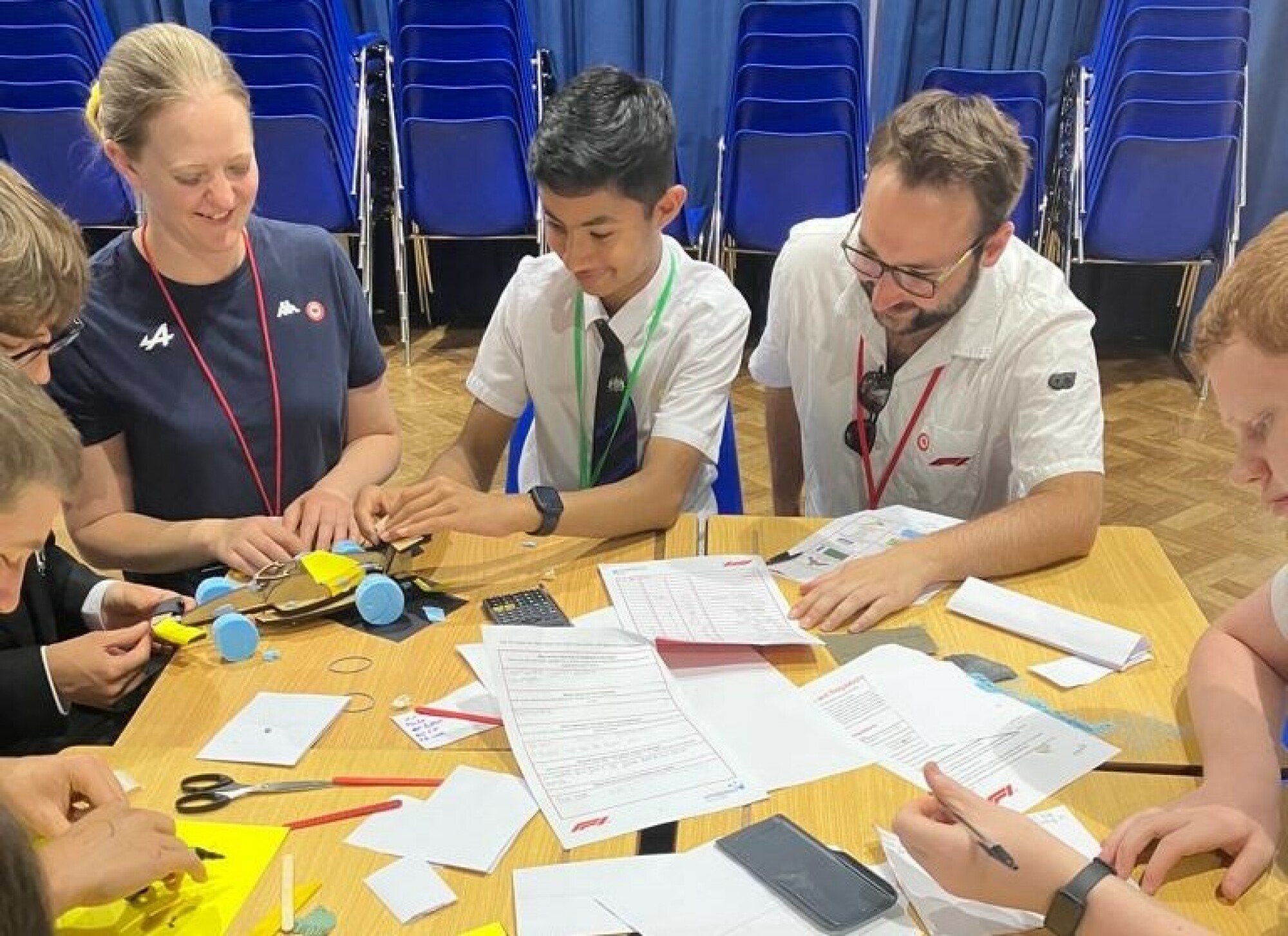 As part of the scheme over 400 secondary school students will take part in STEM Challenge Days – action-packed days designed to give students a hands-on introduction into engineering and build vital life skills, through a series of fun technical challenges, team-building exercises and talks from current Formula 1 engineers.
Year 9 students from The Bishop David Brown School, Woking, Thomas Becket Catholic School, Northampton, Chislehurst School for Girls, Bromley, Cheney School, Oxford, The Radcliffe School, Milton Keynes, Sir Christopher Hatton Academy, Wellingborough and Biddenham International School, Bedford will take part in a range of exciting engineering activities, including designing, building, and testing their own aerodynamic racing cars, before they present their designs to a panel of judges for the chance to win a selection of Formula 1 prizes.
With the support of several F1 teams, the students will learn about the fundamental mechanics behind F1 cars (including axles, gears and how to power their cars) from industry experts, including Formula 1's Chief Technical Officer Pat Symonds, whilst also getting an unrivalled insight into the world of F1.
The STEM Challenge Days are part of the continued commitment by F1 to increase diversity in motorsport and make the sport more accessible. The participating schools were selected based on the Engineering UK EDI Criteria, which identifies schools that are likely to reach more young people from groups that are under-represented in the engineering profession, such as women, ethnic minorities, people with disabilities and from lower socioeconomic backgrounds.
Pat Symonds, Chief Technical Officer at Formula 1 said:
"The importance of initiatives such as STEM Challenge Days cannot be overstated. These days give students a comprehensive introduction into the key pillars of engineering and problem solving that are vital for F1. We hope our STEM Challenge Days can inspire the next generations of engineers, designers, and innovators to study STEM subjects and pursue a career in motorsport."
Tim Goss, Single Seater Technical Director at the FIA said:
"It is one of the main priorities of the FIA to increase diversity and inclusion in motor sport at every level, and through programmes such as this, together with Formula 1 and the teams, we will open up a world of possibilities to young people from backgrounds that have been historically underrepresented in the STEM subjects. It is fantastic to see the interest in Formula 1 at an all-time high, and we must continue to use this momentum to nurture future talent and show that our sport is a place for everyone to show what they can do without discrimination."
Maria French, Headteacher at Chislehurst School for Girls said:
"Thank you to Formula 1 and The Smallpeice Trust for organising such an engaging and fascinating day for our students. A key factor in deciding your career path is having access to different opportunities. The STEM Challenge Days have given our students an invaluable insight into the world of F1 and engineering and I hope our students now know that there is a possibility for a career in motorsport if they put their minds to it."
Caroline Broadway, Director of Engagement at The Smallpeice Trust said:
"We are proud to be working with Formula 1 and the F1 teams to provide young people at a number of schools across the country access to incredible role models. The STEM challenge and team-building exercises are a brilliant way for pupils to learn and be inspired to think about their future, supporting the goal of diversifying the talent in the sport."